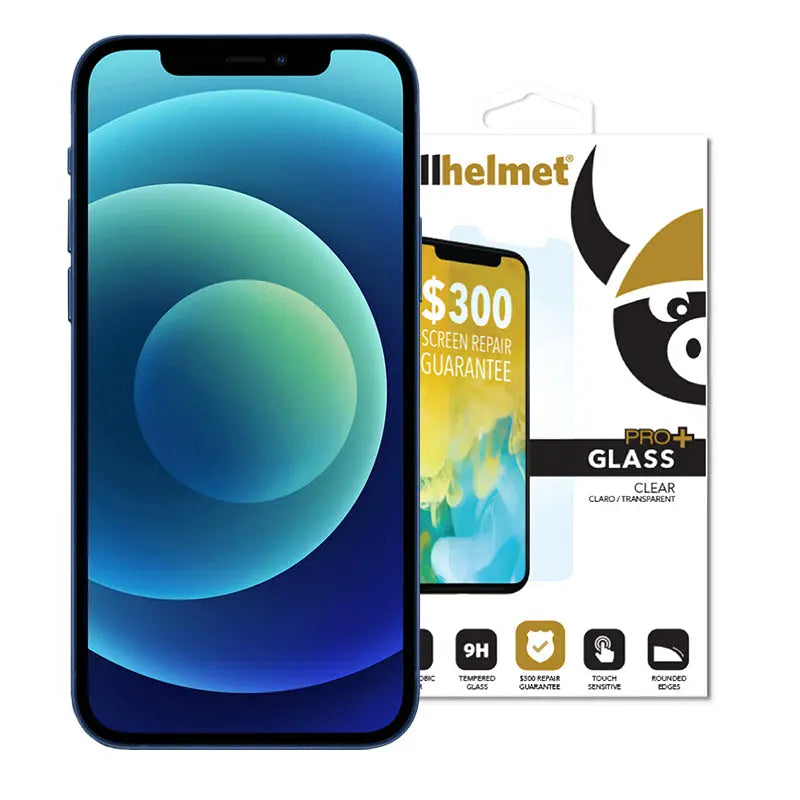 Apple iPhone 12 / 12 Pro Tempered Glass with $300 Screen Repair Guarentee
Are you searching for maximum screen protection for your Apple iPhone 12 and 12 Pro? Look no further--cellhelmet's Tempered Glass screen with up to $300 Screen Repair Guarantee is the perfect solution. Carefully designed for Apple devices, such as the iPhone 12 and iPhone 12 Pro Models, this tempered glass feature offers a complete shield from scratches and other damages.
Our ultra-thick yet lightweight, virtually undetectable tempered glass screen protectors keep your screen's resolution and clarity up to the manufacturer's standards. Smooth, rounded edges make it seem as if nothing is there, and the oleophobic coating stops residue from gathering.
Installation is simple and easy, with no air bubbles, and an included cleaning cloth to prepare your phone screen for installation. And with our lifetime warranty, you can rest assured that cellhelmet stands behind its products. Should there be any cracks or chips in your cellhelmet Tempered Glass, simply head to our website and order a new one for $9.99 S&H.
Protect your phone with the best screen protector on the market. Choose cellhelmet's tempered glass screen protectors for iPhone 12 / 12 Pro.
Product Features & Specifications 
$300 Screen Repair Guarantee -

 

Should our Tempered Glass fail to protect your device's glass, you're covered up to $300 towards the repair cost.  

Case Friendly

 

- The tempered screen protector is specially designed for iPhone SE.
Easy Installation

 

- Our easy-to-follow instructions will ensure your installation is seamless. 
Scratch Resistant

 

- The 

iPhone 

12 / 12 Pro

 

tempered glass protector is made with reinforced technology to protect your iPhone from unwanted scuffs and scratches. 
Bubble-Free

- Our tempered glass protectors will self-expel air bubbles when automatically bonding with your screen.  Coated with oleophobic clear layers to protect against oil residue from fingerprints. 

Hardness

 

- 9H hardness, Tempered Glass protector that can survive the hardest hits and the sharpest keys
Touch Response

 

- .3mm thickness for maximum protection and flawless touch response

Lifetime Warranty

 

- Crack or break your tempered glass? No sweat, our tempered glass includes a lifetime warranty. 
Frequently Asked Questions 
Q: What is the $300 Screen Repair Protection Guarantee by cellhelmet?
A: cellhelmet offers a screen repair guarantee where they will reimburse you for the repair of a damaged screen, up to a $300 value, should your device experience breakage after using their tempered glass screen protector.
Q: What is tempered glass and how does it protect my iPhone 12 / 12 Pro screen?
A: Tempered glass is a type of glass that is specially treated to make it stronger and more resistant to impacts and scratches. It is commonly used as a screen protector for mobile devices like smartphones, as it can absorb the shock of accidental drops and prevent the screen from cracking or shattering.

Q: What makes cellhelmet's Tempered Glass different from other screen protectors?
A: cellhelmet's Tempered Glass is designed to provide complete protection for your phone screen while remaining crystal clear and ultra-thin. It features rounded edges that make it feel smooth and seamless, as well as an oleophobic coating that prevents fingerprints and smudges from appearing on the screen. Additionally, it comes with a lifetime warranty that covers any cracks or chips in the glass, so you can rest assured that your phone will be protected for the life of the device.

Q: How do I install cellhelmet's Tempered Glass on my phone?
A: Installing cellhelmet's Tempered Glass is easy and hassle-free. Simply clean your phone screen with the included cleaning cloth, then align the protector with the edges of your screen and press it down firmly to adhere. The tempered glass will automatically adhere to your screen without any air bubbles.

Q: What if I have trouble installing the tempered glass or it doesn't fit my phone?
A: If you experience any issues with installing the tempered glass or if it doesn't fit your phone, please reach out to cellhelmet's customer service team for assistance. They are available to help you with any questions or concerns.

Q: How do I make a warranty claim for my cellhelmet Tempered Glass?
A: If your cellhelmet Tempered Glass gets cracks or chips, simply head to our website and order a new one for $9.99 S&H. You will receive a replacement tempered glass that will be shipped to your address. If you have any questions about the warranty or need assistance with making a claim, please contact cellhelmet's customer service team.